Mardi Gras Heart Masks: 2 Design Set
Masks have always possessed a certain air of mystery that has fascinated people for centuries and the masking tradition remains a vital part of Mardi Gras. Like its counterparts in the Caribbean, South America, and Europe, the pre-Lenten Mardi Gras festival is framed by the original masks worn by people in masked balls, krewe members in parades, tourists and party goers during the final crescendo of madness known as Fat Tuesday.
These masks use many colors just as a Mardi Gras does!
Both fit your 4" x 4" hoop.
Thread chart for each design is included.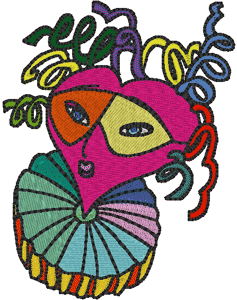 Design Info
| | |
| --- | --- |
| Stitches: | 15,053 |
| Width: | 2.73" |
| Height: | 3.53" |
| Colors: | 21 |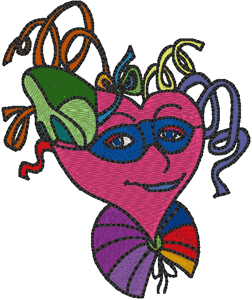 Design Info
| | |
| --- | --- |
| Stitches: | 12,918 |
| Width: | 3.04" |
| Height: | 3.65" |
| Colors: | 22 |
Hoop Size: 4" x 4" (100mm x 100mm)
Thread chart included
Product ID: 3508
Price: $10.00
You may also be
interested in: